Do you have an impact driver with a 1/4" collet similar to the one shown on the left? Do you have a 1/4" to 1/2" adapter for it like the one shown below? If you do, then we have a Cowan Chuck made just for you. It could be part of your impact driver accessories. Don't worry if you don't, we will fix you up with one.
If you can do this: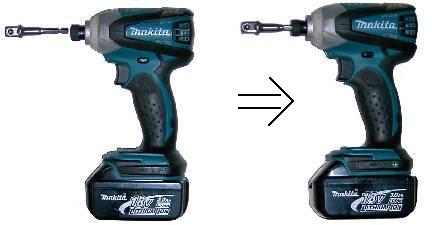 Two impact drivers shown, one without adapter, one with adapter
Then we have this for you.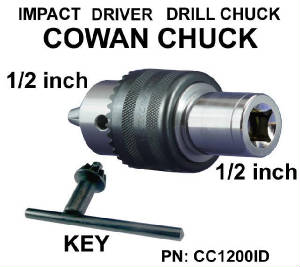 Cowan Chuck, drill chuck for an impact driver, impact driver accessories.
Just $25.99
NOTE: NOT FOR PNEUMATIC POWERED IMPACT WRENCHES
Oh, you don't have one of these?

impact driver accessory, impact driver accessories
THEN PLEASE CLICK HERE. You will be sent to another page where you can get both.
Do you have an impact driver that packs a punch? Do you find that what's available out there for your impact driver just isn't big enough to accept the bigger 1/2" shank drills? Do you wish someone would make a chuck big enough for your powerful impact driver at an affordable price? Well, we have the impact driver drill chuck you are going to love.
You probably saw our impact wrench drill chuck on our HOME page. It's tough. Well, we thought that you might like one too. So we designed an impact driver accessory to fit the 1/4" to 1/2" adapter shown above. Now you can really drill with your impact driver!
NEW: COMBINED SHIPPING ON 1-6 COWAN CHUCKS USA, 1-4 EVERYWHERE ELSE.
Why buy 2 or more chucks? These chucks connect/disconnect quickly. Put your starter drill in one and the larger or final drill in the other. Saves a lot of time when you have multiple holes to drill. It's easier to just change chucks.
NOTE:
This impact driver accessory is designed for impact drivers and is not interchangeable with the Cowan Chuck shown on our HOME page. Also, there is a ton of information for you to review there. We encourage you to read through it so that you will be knowledgeable about our chucks when you brag to your friends.

...And thanks.